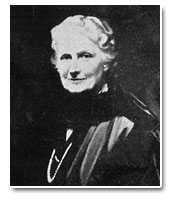 "The child is truly a miraculous being and this should be felt deeply by the educator."
– Maria Montessori
What is Montessori?
Dr. Maria Montessori was an amazing woman. She was the first woman in Italy to receive a medical degree. Her ideals and philosophies have had a prolific influence on education around the world. There are more than four thousand Montessori schools in the United Sates and Canada, and thousands more around the world. Her methodologies are global.
Dr. Maria Montessori developed her philosophy of child development in the early 1900's by observing and interacting with children of varying ages, ethnicity, and socioeconomic status. The first Casa de Bambini, or Children's House, opened in 1907, in Rome. It quickly became world famous and educators from around the world came to observe her amazing results.
The Montessori approach is to recognize and address a variety of learning styles. Montessori students learn through a hands on approach while incorporating investigation and research. Montessori offers a rigorous academic program.
Montessori ties the separate disciplines, such as language, math, art, zoology, botany, and geography, together into one cohesive curriculum. This integrated approach is one of her great strengths.
Dr. Maria Montessori believed that no human being is educated by another person, but that he must do it for himself, or it will never be done. A truly educated individual continues learning long after the hours of school because she / he is motivated by a natural curiosity and love of knowledge.
Learn more about Maria Montessori and Montessori education
Useful Links:
Materials